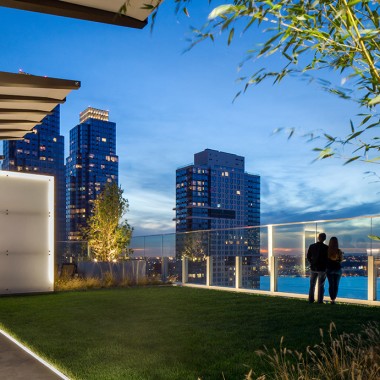 A Romantic Night in Hell's Kitchen
January 10, 2017

A mix of old-school cool and 21st-century elegance—and a bit of grit to hide the seams between the two—Hell's Kitchen is the place for a romantic night on the town. Whether you're looking for cozy or hip, the date-worthy restaurants and bars fill the neighborhood surrounding Gotham West apartments. With a steady expansion of new establishments and the consistency of long-time favorites that call the Midtown West area home, Hell's Kitchen offers some of the best spots in the city for your romantic celebrations, anniversaries, Valentine's Days, New Year's Eves, or just plain date nights.
Chez Josephine
For a bit of joie-de-vivre that will make an impression before or after a Broadway show, take your date to Chez Josephine on West 42nd. With red velvet walls, a blue tin ceiling, and crystal chandeliers that cast soft glitter upon 1930s Parisian artwork and posters, Chez Josephine pays homage to the legendary entertainer Josephine Baker. Just a short stroll from Gotham West's Midtown West luxury rentals, live piano music tinkling forth from a baby grand rounds out the ambiance and sets the stage for the real star of this restaurant: the French-American menu. Boasting a mix of Parisian and Continental favorites, every dish is authentically prepared. The Maryland crab cakes rival anything that we've tasted while on the Chesapeake, and the pan-seared calf's liver absolutely melts in your mouth. For a little taste of their signature dishes, try their prix fixe menu.
Aria
Good food not only makes for wonderful conversation but also offers a chance to get to know your date's tastes. Aria's broad variety of small bites affords a fine opportunity to capture the best of both. Mozzarella saporita with its delicate prosciutto wrap and the vongole originate (baked clams with oregano and lemon sauce) are winners sure to please. And the wine…do not forget the wine! The list of Italian vintages is among the best in the city, so take your time ordering, discuss pairings with your server, and settle on a bottle or two or three or more, and the rest of the night will take care of itself.
Casellula
Casellula is the kind of place you take your date to right after you say, "I know a little place we can go." Quietly tucked into an unassuming niche on 52nd Street, Casellula's small sign and spartan décor, as seen through the storefront window, make it an easy spot to miss. But a second glance brings a glimpse of the cheese case prominently displayed at the center of the restaurant, and from there you'll be captured. This quaint space features about 40 cheeses on any given day, ranging from your familiar favorites to obscure choices that will become your favorites. Expertly paired with condiments to bring out their complex nature, each cheese satisfies to its fullest potential. Likewise, the wine list mirrors the fromage in its choices, with renowned vintners and obscure varietals peppering the 100+ choices that make up Casellula's cellar. If you or your date aren't that into dairy, the rest of the menu inspires via comforting and diverse offerings that follow Casellula's "normal or quirky" theme, with mac and cheese and roasted Italian eggplant representing examples of the former, and the pig's ass sandwich and warm octopus salad the latter.
Asiate
Saying that you know a place is one ploy, but bragging about getting a reservation at a premier hot spot is another. For those times when the table score and the view matter, there's Asiate. Located at the top of the Mandarin Oriental Hotel on Columbus Circle, Asiate has a second-to-none view of Central Park, so be sure to ask for a window seat to awe your date. While you're taking in the splendor, there'll be no shortage of scrumptious dishes like Arctic Sea char with romanesco, kalamata, and charred grapefruit. Fresh ingredients and the inspired touch of Executive Chef Christian Pratsch deliver food and wine with gracious service in an elegant atmosphere sure to impress. For the decadent who want a reason to linger a little longer, order the six-course tasting menu and let the sommelier make the wine pairings for you.
Back to articles