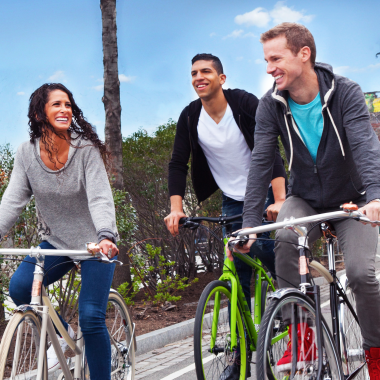 A Step Outside | Hell's Kitchen Outdoor Activities
July 1, 2016

Ask any die-hard urbanite to describe the ultimate summer vacation, and the likely answer will be a city "staycation." And truly lucky are those outdoorsy city dwellers who can snag a no-fee luxury rental apartment in Midtown West like those at the Gotham West—which offers easy access to a bevy of warm-weather activities, all within the secure radius of civilization, aka Manhattan.
You can start your outdoor, urban retreat at Pier 96, where the list of available activities is extensive: kayak down the Hudson with the help of Downtown Boathouse, a volunteer-run nonprofit dedicated to educating the public about kayaking. They offer evening classes, free walk-up kayaking, and kayak trips on the harbor launching from the boathouse at Pier 96. Believe it or not, you can take a dip in the Hudson River—though swimming within the park is permitted only if you are participating in one of the official events (a swim or race) that take place throughout the year, as hosted by NYC Swim. And if your idea of an outdoor activity is to soak up some rays, you don't have to wait for summer to enjoy a vigorous session of Vitamin D acquisition: the lawns at Pier 96 in Clinton Cove are open all year. Just bring a blanket, lawn chair, or if you're feeling ambitious, a picnic lunch, and enjoy the Hudson River views.
If running or biking is more your speed, the park offers uninterrupted esplanades and a bikeway that links to Riverside South at West 59th Street, then connects with Riverside Park at West 72nd Street, and ends all the way north at West 181st Street.
For a relaxing adventure, let someone else take the wheel: A Circle Line tour is one of the best ways to take in city sights and skyline views. The vessel departs from Pier 83 at West 42nd Street and offers special events and charters. A perennial hot ticket is their July 4th Fireworks Cruise, which embarks at 5:15 p.m. and returns at 11 pm, providing a front-row seat for the Macy's 4th of July Fireworks Spectacular over the harbor.
Another key attraction in the Hudson River Park area is the Intrepid Sea, Air & Space Museum. This summer the museum will spotlight Star Trek-themed events, exhibits, and activities; family astronomy nights will feature talks and stargazing, as well as a free summer movie series beginning July 7th with a screening of—you guessed it—2009's Star Trek. Movies will be screened on the aircraft carrier's flight deck every Thursday through August 5th, with free admission on a first-come, first-served basis. Doors open at 7 p.m. for sunset showtimes, so get there early to secure the perfect end to an action-packed day in Hell's Kitchen.
Back to articles