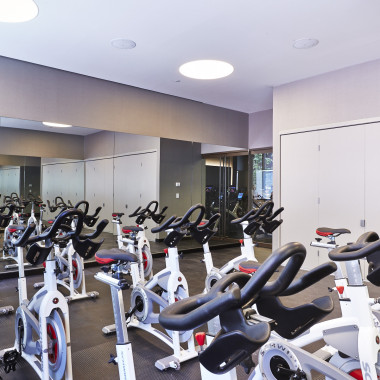 All-Weather Fitness at Gotham West
February 20, 2016

When NYC's streets and parks are covered in snow, it's time to get your exercise indoors in the world-class health club at Gotham West. With amenities like a personal trainer, group fitness classes, a cycling studio, and a fully equipped gym, Gotham West offers a fitness-focused alternative to other apartments for rent in Midtown Manhattan. Here are a few ways you can stay in shape right inside your Midtown West apartment building, even as the temperatures outside drop.
Yoga
There's a yoga studio on every block, but how many people have one inside their apartment complex? Yoga is an ancient practice that aligns mind, body, and spirit. By connecting the breath with mindful movement, the yogi feels calm, collected, and renewed. Yoga has numerous health benefits, in addition to working your core and improving balance. Namaste, indeed.
Cycling
Let's face it—riding a bike outside in the winter is difficult. The snow, sludge, and black ice make it almost impossible to get around. Luckily, stationary bikes provide an exercise option for the avid cyclist all year round. You won't miss the winter wind nipping at your face when you can ride comfortably indoors. If you really want to burn some calories, try a spin class. You can burn up to 741 calories per hour pedaling to pop music in one of these classes. The cycling studio at Gotham West is your personal secret to staying in shape when the weather outside gets frightful.
Running 
Whether you're training for the New York City Marathon or just have a need for speed, treadmills offer a great winter alternative to running in the park. In addition to providing an intense cardio workout that improves your lung function, running also releases an endorphin rush that makes you feel great. Running three times a week has been proven to make you stronger and happier, so you can beat those winter blues.
Keeping up a workout routine is tough, especially in the winter, but the convenience of having a gym in your building makes all the difference. Burn off those holiday meals now and you'll be thanking yourself when swimsuit season finally rolls around. Getting regular exercise will also help you live a longer, happier life, and in the short term, it's a great way to warm up during the frigid winter months.
Back to articles