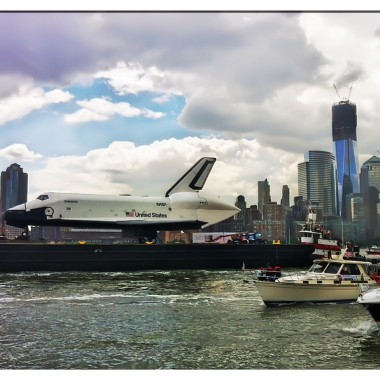 Family Entertainment in Midtown West
July 13, 2016

Hell's Kitchen is the destination for families who want to have fun. From gargantuan museums crammed with machines that changed the world to shows that will make the kids (and you) gasp and giggle—here's where to get your family entertainment fix in Midtown West.
Intrepid Sea, Air & Space Museum
As you might guess from its name, the Intrepid Sea, Air & Space Museum is a place for brave explorers, pilots, astronauts-in-training, and anyone who can appreciate a few history lessons slipped into interactive exhibitions. USS Intrepid—the aircraft carrier berthed right on the Hudson River and the centerpiece of the museum—has weathered conflicts from World War II to Vietnam, and its sheer size at 872 feet is something to behold. Also on display is the supersonic passenger transporter, the British Airways Concorde, which once crossed the Atlantic in a record-shattering two hours, 52 minutes, and 59 seconds. Kids can get a taste of what it's like in the cockpit of the Concorde, courtesy of the museum's supersonic jet plane simulator. The museum also offers special hour-long tours of the Intrepid, as well as through the flight deck and Space Shuttle Pavilion (home to the shuttle Enterprise). This includes a new homage to Star Trek that invites guests to show up in costume and in character, as newly commissioned officers of the Starfleet Academy touring the museum in the 24th century.
Gazillion Bubble Show
Anyone who's enjoyed a sudsy bubble bath, or blowing backyard bubbles as kid, will be blown away by the bubble pros behind the Gazillion Bubble Show—a soapy spectacular involving lasers, music, lighting effects, and some extremely big bubbles. The show has amassed Guinness World Records, and has been featured on Letterman, Oprah, Ellen, and The View, among others. Most importantly, it's a proven hit with the kids. During the show, audience members are called on to volunteer, and they may just end up inside a huge bubble of their own. For the true bubble devotee, Gazillion Bubble Show offers birthday experiences too.
Improv 4 Kids
If you're running out of ideas how to keep the kids entertained, let someone else do the creative improvising instead. Every Saturday afternoon at the Broadway Comedy Club on 318 West 53rd Street, Improv 4 Kids features a group of adult actors that take suggestions from their young audience and create a totally original show in front of their very eyes. Expect an explosion of characters, dances, stories, skits, and songs that are guaranteed to make the kids giggle. You'll have a tough time trying not to laugh along with them.
Back to articles