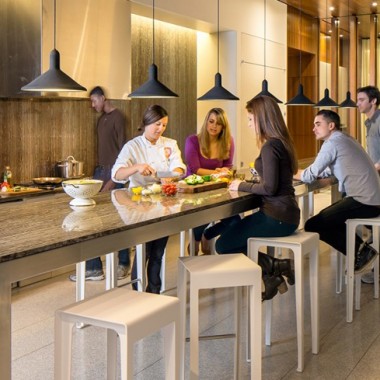 Healthy Living at Gotham West
February 23, 2015

With the NYC temperatures in the single digits, it's tempting to simply snuggle up under a blanket indoors and turn to unhealthy comfort food to keep us warm. Luckily for residents of Gotham West, the luxury apartment building in Midtown West, there are plenty of options and amenities available to help keep you active, fit & healthy all year round
With the NYC temperatures in the single digits, it's tempting to simply snuggle up under a blanket indoors and turn to unhealthy comfort food to keep us warm. Luckily for residents of Gotham West, the luxury apartment building in Midtown West, there are plenty of options and amenities available to help keep you active, fit & healthy all year round.
Here are a few tips on how to stay active and healthy this winter at Gotham West:
STAY ACTIVE in the fitness center available to residents at Gotham West.
• With a variety of group exercise classes, including cycling, yoga and cardio bootcamps from New York Optimum Performance, there's no excuse for not getting up and moving! Residents don't even have to go outside to get to their favorite exercise classes.
• The gym is also fully equipped with high-end cardio machines, weights and stretching areas to ensure guests have everything they need (and more!) for a great workout.
• Personal training sessions are also available for those seeking one-on-one workouts with professional trainers from New York Optimum Performance.
STAY HEALTHY with healthy dining options at Gotham West Market, the first-of-its-kind day-to-night market located on the ground floor of Gotham West.
• Indie Fresh, a new addition to Gotham West Market, is now serving fresh soup and broths along with juices and smoothies for those looking for healthy winter options.
• A menu from chef Akhtar Nawab (Choza Taqueria), packs in the flavor while maintaining low-calorie and high-protein counts and all dishes served at Indie Fresh are gluten-free, dairy-free and contain no added sugar.
• Offerings are available to stay and enjoy in the Market, or to-go in sustainable glass Mason jars to be enjoyed  on-the-go. Menu highlights include:
• Bison Borscht with tuscan kale and black chia seeds ($12)
• Broccoli, Coconut & Hemp Curry soup ($9)
• Pho Beef Broth ($9)
• Turkey Sausage, Egg & Gluten-Free Pancakes ($11).
Back to articles