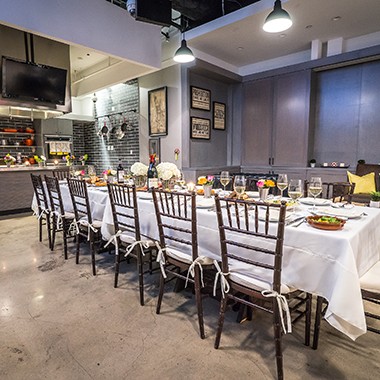 Hosting at the Gotham West Market
December 27, 2016

What sets apart a good host from a great host? Like everything else in New York, it's location, location, location. Your guests will be impressed with a gathering in your well-appointed apartment at Gotham West in Hell's Kitchen. But to up the ante for your next hosting undertaking, take advantage of the Gotham West Market, the on-site food hall on the ground floor of the Gotham West Apartments; the Market's private hosting space; and, of course, its bevy of food and drink options.
When New York Times food critic Pete Wells turned his sights on the dazzling array of culinary delights at the Gotham West Market, he called on readers to "Go West to Sample the World" at this "new eating adventure." New York Magazine added to the raves, describing the cavernous foodie mecca as "heaven on earth." Though residents of Gotham West may be accustomed to round-the-clock access to its celebrity chef-helmed restaurants and some of the world's finest food purveyors, your guests can share in the bounty—and special access—as well.
Although the crystal ball in Times Square will be dropping just a few blocks away, you can always watch the confetti and fireworks from the comfort (and climate control) of your own home. On New Year's Eve, serve small plates from Chef Seamus Mullen's tapas restaurant, El Colmado—perfect for a gathering with less sitting down and more mixing, mingling, and champagne toasting. In fact, you can choose any (or all) of the Market's restaurants to cater your event, depending on your party theme. For game day, order a juicy, roll-up-your-sleeves, California-style burger from the comfort-food experts at Genuine Roadside. Or top a birthday cake from Ample Hills Creamery with a scoop of one of their signature flavors like Salted Crack Caramel and Peppermint Pattie.
If you'd prefer to host outside your own luxury rentals, you can always invite friends, family, and colleagues to the 800-square-foot Club Room, a private event space inside the Market, which accommodates up to 150 guests for a blowout event, or up to 60 for formal dining settings. The Club Room is equipped with an arsenal of hosting tools, including a fully functional AV system, with 70-inch, high-resolution projection screen and excellent acoustics, and plush lounge chairs, perfect for an Oscar party, Super Bowl celebration, live concert event, or Taco Tuesday, replete with a make-it-yourself taco bar from Choza Taqueria.
With the Gotham West Market as part of your extended home, you've already mastered the art of hosting by scoring the best location in town.
Back to articles