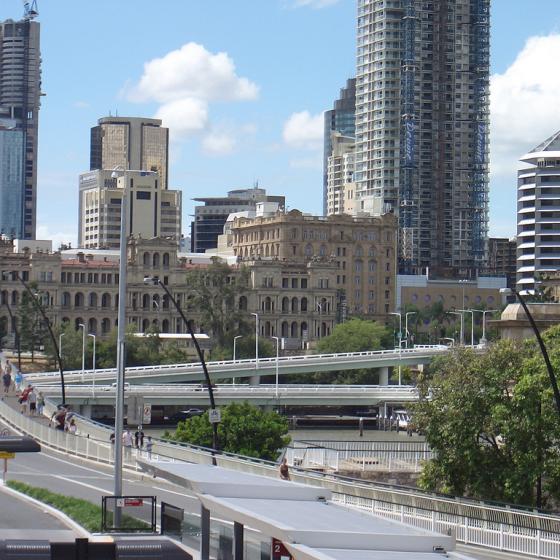 InstaTips: Hell's Kitchen
December 2, 2015

With the river on one side and the city on the other, Hell's Kitchen is eminently photogenic—the more so because, on its western edge, building codes limit the height of buildings, so it's easy to get a wide shot of the city in the background of your subject. Even better, within the neighborhood there are many individual points of interest, from art installations and gardens to historic sites, that provide great photo opps. If you're Instagramming your way through the neighborhood, here are a few prime spots to snap the perfect selfie.
Start with the Hell's Kitchen flea market, which runs every weekend on 39th Street between 9th and 10th Avenues. Here you can get photos of colorful booths with high-rise buildings in the background, as well as quirky pictures of fantastic flea-market finds: antiques, mounds of produce, and colorful arts and crafts. There's a bit of picturesque city grit as well, with bus ramps behind the market and cranes in the background putting up all the apartments for rent in Midtown Manhattan to meet the growing demand for this increasingly desirable neighborhood.
For gorgeous skyline shots, there are plenty of rooftop bars and fine restaurants in Hell's Kitchen that boast amazing views. The Press Lounge, which serves up views of the Manhattan skyline and the Hudson River as well as delicious cocktails, is a neighborhood favorite. Hudson Terrace also offers a fantastic view of the river, with the U.S.S. Intrepid front and center.
Visit the Intrepid Sea, Air & Space Museum for shots from the deck and plenty of other cool photo ops. The museum includes the space shuttle Enterprise, a Concorde, and the submarine Growler. Popular Hudson River Park offers more views of the river; depending on the angle, you can often get Manhattan in the background. To get views from the water itself, enjoy a dinner or lunch cruise on the World Yacht, or hop on a ferry any time of day. A few blocks north, De Witt Clinton Park offers play areas for great action shots and a perennial garden for nature photography.
Of course, no Hell's Kitchen photo album would be complete without a bit of the neighborhood's urban side. Head away from the river on West 46th Street to find Restaurant Row, which starts at Ninth Avenue and offers a wealth of dining options as well as the opportunity for some charming streetscape shots. Or head over to Gotham West Market for a quick bite and plenty of delicious food photo ops amid a bustling, stylish scene—it's a favorite destination for the residents of the growing number of Midtown West luxury apartments. A few blocks south, stand on the northeast corner of 42nd Street and Eighth Avenue to take shots of the Port Authority Bus Terminal. The Matthews-Palmer Playground, now a leafy play area, used to be May Matthews Park, the site of a famous 1959 gangland rumble—a reminder that, half a century ago, Hell's Kitchen was the west side of West Side Story.
Today, there's a strong sense of community pride here, with a number of sweet community-built parks located throughout the neighborhood. On the southern end of Hell's Kitchen, Teresa's Park on West 39th Street offers a charming small green space much beloved by the community. Bob's Park and Alice's Garden, on West 35th Street and West 34th Street, respectively, are other small community parks; Bob's even has a playground. Heading north, there's a brand-new playground with a mural of flags from around the world at P.S. 111 on West 53rd Street; it's open to the public during non-school hours. Hell's Kitchen Park, which is on Tenth Avenue between West 47th and 48th Streets, offers playgrounds and basketball courts. Nearby Clinton Community Garden is partly gated, but neighborhood residents may apply for keys to the back garden. The front garden is open to the public.
Finally, the northern boundary of Hell's Kitchen is located in close proximity to the most famous NYC park of all: Central Park. On Columbus Circle at the northeast corner of Hell's Kitchen and the southwest corner of Central Park, the Mandarin Oriental's lobby lounge or Asiate restaurant—both on the 35th floor of the Time Warner Center—offer great city views, as do A Voce and Center Bar, also on Columbus Circle. Dinner at any of these eateries would provide a fantastic and photogenic end to a day of photo-taking. After dinner, step across Columbus Circle to the edge of Central Park to get a dramatic shot of Time Warner Center itself.
Back to articles