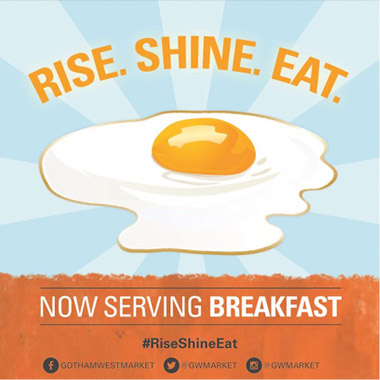 New Breakfast & Brunch Hours at Gotham West Market
January 23, 2015

Starting today, Gotham West Market will extend their morning hours, opening daily at 7am to accommodate early risers and morning commuters with a selection of healthy breakfasts to stay or go. On the weekend, El Colmado and The Cannibal will offer new weekend brunch menus.
In addition to signature coffee and espresso drinks, Blue Bottle now offers healthy breakfast options including steel cut oatmeal and yogurt parfaits with seasonal fruit compote. Breakfast 7am-12pm daily.
At Court Street Grocers Sandwich Shop guests can indulge in breakfast sandwiches with scrambled eggs served on ciabatta with either Burger's Smokehouse Bacon or Edward's sausage,or opt for a healthier version with  gluten-free bread or egg whites atop a bed of arugula. Breakfast 8am-11am daily.
Choza Taqueria offers a range of Mexican breakfast options with vibrant vegetable toppings and customizable proteins including Breakfast Tacosmade with eggs, jack cheese and pico de gallo and Tamales & Poached Egg with salsa, queso fresco and chili powder. Breakfast 8am-11am Mon-Fri, 9am-11am Sat-Sun.
At Genuine Roadside, guests can enjoy a Baja California-influenced menu of American classics such Plato Veracruz made with scrambled eggs, cojita cheese, cilantro, green onions, chorizo patties, fresh tomato wedges and chile-citrus dressing, or Cali-style "Shrimp & Grits" with soft polenta cakes, grilled shrimp, bacon, light mushroom gravy, green onions and parsley. Eggs can be substituted with egg whites and any proteins can be subbed for avocado.  Breakfast 7am-11am daily.
Weekend brunch highlights and new offerings include:
A new menu from El Colmado, offering a variety of Spanish dishes such as Huevos al Horno made with two baked eggs and a stew of peppers, onions, tomato and fresh smoked cheese with toast, as well as Patatas Bravas. Mimosaswith fresh orange juice and cava, along with their signature sangria, are also available. Brunch menu available at 11am
In addition to Bloody Marysand mimosas, brunch at The Cannibal includes Chai Spiced French Toast with lemon ricotta and honey as well as the Toad In The Hole served with country pate and pickled celery. They also offer the Butchers Breakfast Board composed of two 3-minute eggs, cheese, salumi, two types of pate, bread, butter and jam that will change based on seasonal ingredients. Brunch menu available at 11am
Back to articles