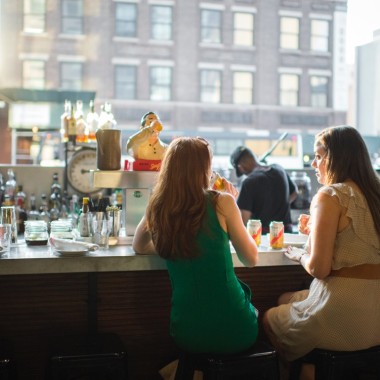 Summer In Hell's Kitchen
May 22, 2015

The flowers have bloomed, the sun is finally out it looks like Summer 2015 is near! Luckily for residents of Gotham West, the luxury apartment building in Midtown West, there are plenty of ways to enjoy the beautiful summer weather right here in the Hell's Kitchen neighborhood.
To savor all that summer has to offer, here are a few ideas on how you can enjoy the summer months in Hell's Kitchen:
Dine al fresco at Gotham West Market: Enjoy breakfast, lunch, dinner, snacks or drinks from any of the eight culinary operators at Gotham West Market while you dine outside at one of the outdoor sidewalk tables or one of the two outdoor bars at The Cannibal or El Colmado.
Bike on the West Side Highway: Buy or rent a bike and biking gear from NYC Velo, the cycling shop in Gotham West Market, then take a long bike ride down the West Side Highway along the Hudson River. Enjoy a cool drink and well-deserved snack from the market when you return.
Visit the Intrepid: Located just around the corner from Gotham West at Pier 86 on West 46th Street and 12th Ave, The Intrepid Sea, Air & Space museum is a military and maritime history museum aboard the legendary aircraft carrier and national historic landmark, Intrepid. If you haven't been, grab some friends and make a day of it, and if you have kids, they'll love this!
Explore Hudson River Park: Another destination located just a few blocks from Gotham West, Hudson River Park has something for everyone. Whether you want to take your dog to the dog park, play mini golf, go kayaking or simply take a nice summer run, the park is a great place to enjoy the nice weather.
Shop for flowers at Chelsea Garden Center: Chelsea Garden Center is just a few blocks away from Gotham West and the perfect place to get your home ready for summer with some decorative flowers. Buy some for your apartment or bring some to a loved one to celebrate the summer season.
Back to articles