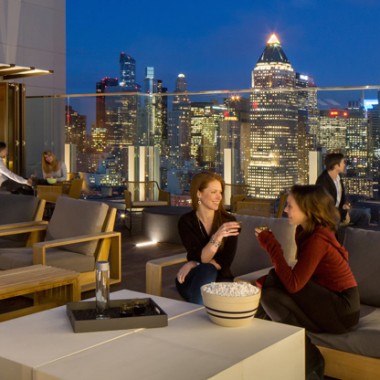 Sundays in Hell's Kitchen
August 30, 2016

Sundays have the well-deserved reputation as the best time to unwind and recharge for the week ahead. At your Midtown West luxury rentals, you could easily stay in and lounge in the private landscaped courtyard or work up a sweat in the cycling and yoga studio. While the Gotham West apartments are ideal for the homebody, you don't want to forget that you're in the center of one of NYC's liveliest neighborhoods. With the city at your feet, why not go out, explore, and create a perfect Sunday in Hell's Kitchen?
Upon waking in your luxury no-fee apartment, indulge in your new Sunday ritual: cradle a cup of coffee while taking in views of the Midtown skyline through floor-to-ceiling views; then start a crossword as a quick load of laundry dries in your apartment's Bosch washer/dryer. Next, take a stroll around your neighborhood and pick up fresh produce at the Stiles Farmers Market. This bustling shop's aisles of delicious vegetables and plump fruits will remind you of a European market.
With the week's linens tucked away and the stainless steel KitchenAid refrigerator stocked for the coming week, it's time to head to every New Yorker's favorite Sunday destination: brunch. Hell's Kitchen isn't just close to one of the world's foremost entertainment meccas—Broadway—it's also a foodie's paradise. At the fine American dining restaurant, 44 ½, you can enjoy an afternoon aperitif in the outdoor bamboo garden; then savor deep-dish French toast or the crab cake Benedict inside the chic, Japanese-inspired space with minimalist white walls and white-leather banquettes.
After an indulgent brunch, you may want to burn off some calories with a late afternoon jog along the Hudson, with its sweeping views of the New Jersey skyline, or ride your bike down the river as the breeze cools you off. Back home, you can wind down your day with a glass of wine on the Sky Terrace on the 32nd floor of the Gotham West apartments, as the bright lights of New York twinkle below.
Back to articles