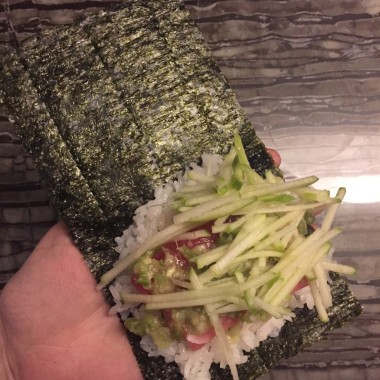 Uma Temakeria Leads Chef Demo At Gotham West
March 25, 2016

Last night, an intimate gathering of residents learned how to prepare hand-rolled sushi from a master of his craft. Chef Chris Jaeckle of Gotham West Market eatery Uma Temakeria led a free sushi rice and hand roll demonstration in the test kitchen exclusively for Gotham West club members. Lucky residents of the Hell's Kitchen luxury apartments were taken through the multi-step process of building a hand roll, emphasizing the importance of a deft hand and an unwavering respect for the ingredients.
Uma Temakeria is known for its expertly prepared hand rolls (temaki), and New York City's first sushi burritos, a popular dish that patrons can customize to their palate. The chefs at Uma are highly skilled, and this private demonstration was a one-of-a-kind culinary opportunity—a sushi initiation like no other.
Club members have access to exclusive cooking demos like this each month from leading chefs from Gotham West Market. Presentations covering an array of different styles and techniques provide a well-rounded—and free—culinary education for residents of the luxury rental building.
Back to articles